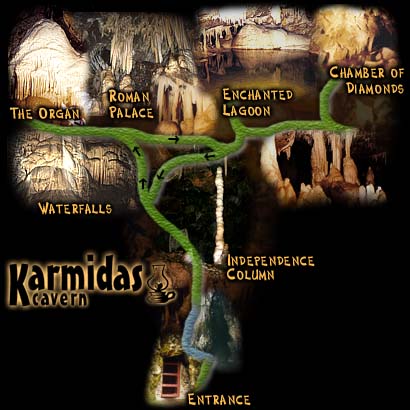 This cavern is formed by a main chamber surrounded by five secondary chambers. The access is a tunnel with an average of 3 feet wide and 6 feet high, and 150 feet long. The tunnel widens progressively until it reaches the main chamber.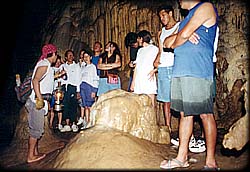 Main chamber: It is a vault of 90 feet high and 180 feet wide, on its center there is the higher stalagmite of the cavern: the Independence Column. This chamber is surrounded by big formations such as the Waterfalls, the Roman Palace, and the Organ.

The Diamonds Chamber. This chamber is more spectacular during the dry season (Jan-Jun), because when the air humidity is reduced the walls of the chamber reflect the light of the lamps. Here we can find the Peaches in Syrup (orange semispheric formations suspended on the roof) and the Volcano (effect achieved by turning off the lamps, having one in contact with a stalagmite.)

White Chamber. This chamber has its walls, roof and ground of white color.

Enchanted Lagoon. This chamber is formed by a small clear lagoon surrounded by formations.

The "Recuerdos" Chamber. During the first years of its discovering, the access to the cavern was not controlled so it suffered damages, such as the stealing of stalactites and graffiti paintings. In this chamber there existe most of these graffitis, most of them start with the words "Recuerdo de...", (In memory of...) written by the first visitors. Fortunately, the access was then controlled and until now there have been no more damages.

The Silence's Chamber. The Recuerdos Chamber is the access to the Silence's Chamber through a straight passage. When the level of the streams is low, you can experience the absolute darkness along with a profound silence: no external noise can be heard inside this chamber.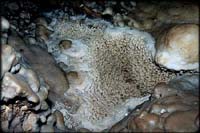 Throughout all the cavern you can observe many figures, such as The Cakes, The Alpinist, The Woodpecker, and The Owl, and many more in which your imagination plays the most important role.